---
Introduction
Gerhard Frost www.unsplash.com
An open-air museum (or open air museum) is a museum that exhibits collections of buildings and artefacts out-of-doors. It is also frequently known as a museum of buildings or a folk museum
The concept of an open-air museum originated in Scandinavia in the late 19th century and spread widely.
Living-history museums, including living-farm museums and living museums are open-air museums where costumed interpreters portray period life in an earlier era. The interpreters act as if they are living in a different time and place and perform everyday household tasks, crafts, and occupations. The goal is to demonstrate older lifestyles and pursuits to modern audiences
Task
Efrem Dzadzisc www.unsplash.com
As a journalist in order to immerse and understand how it was to live in the past your task is to visit an open air museum in one of the following countries, Sweden (Skansa), UK (Black Country Museum), Corsica and Athens and spend a day at the museum and document what you see and feel. You will share your findings in a short video tour and any photos you take will be included in your local history month exhibition.
Process
The most immersive and interactive experience is offered by open-air or 'living' museums. These experiences have shifted away from traditional 'indoor' museum spaces to 'outdoor' sites, offering visitors/learners the chance to immerse themselves in the day-to-day activities of the past by wandering through reconstructed towns and villages.
Below are just some of the 'immersive experiences' you can engage in UK, Sweden, France and Portugal:
Blacksmith Experience Day
Explore working as a traditional blacksmith in our classic Victorian Forge, where you will learn the skills and basic techniques of the blacksmith and make your own simple hand forged object to take home.
Willow Weaving and Sculpting Experience Day
A great introduction to the ancient craft of willow weaving and sculpture. Learn the basic techniques and go home with an amazing sculpture to display in your home or garden.
Working with Straw: An Introduction Experience Day
An introduction to the ancient art of making corn dollies and traditional decorative items.
Teatime Treats Family Cooking Experience Day
A charming family cooking experience for all cooking and history enthusiasts, to
Historical Baking: Bread and Butter Experience Day
Experience the thrill of making and baking bread in an authentic wood fired bread oven from the 18th century.
Conclusion
If you fancy getting in touch with your heritage and imagining life in a bygone era, then immersing yourself in an open air museum is one of the most exciting ways to do it.
Evaluation
Learning Outcomes
Learners will have the opportunity to practically explore a local community making a virtual tour video.
Knowledge acquired
Young adults will be able to appreciate diverse perspectives
Young adults will be able to contribute to civil society
Young adults will be able to develop leadership skills and develop reflective practice
Skills acquired
Research Heritage
● Apply research skills
● Communication skills
Competences acquired
The participants will be able to acquire cultural and creative competencies through education and training. Be able to provide quality access to creative environments.
Resources
Links
Videos
WORLD'S OLDEST OPEN-AIR MUSEUM: Discovering Sweden at Skansen Museum in Stockholm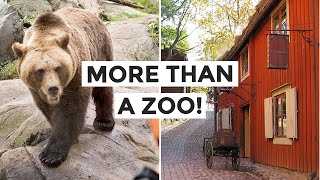 WELCOME TO BEAMISH